Decolonial Cities Dialogue 1 — Decolonial Cities beyond Justice
When and Where
Wednesday, April 19, 2023

10:00 am

to

11:30 am
Speakers
Heather Dorries
Monika Streule
Dena Qaddumi
Bobby Farnan
Description
Urban studies has a rich history of theorising the utopian 'good city'. Adjacent scholarship has tried to theorise the relationship of justice to the city whether through distribution and the right-to-the-city or equality, difference and democracy. Postcolonial urban theory has, in parallel, argued that such concepts can be universals rooted in Eurocentric epistemology. Instead, attention to historical difference and 'worlding' offer alternative entries to building urban theory. As neoliberal processes increasingly seek to co-opt radical movement work, others have argued it is time to think about urban life beyond justice.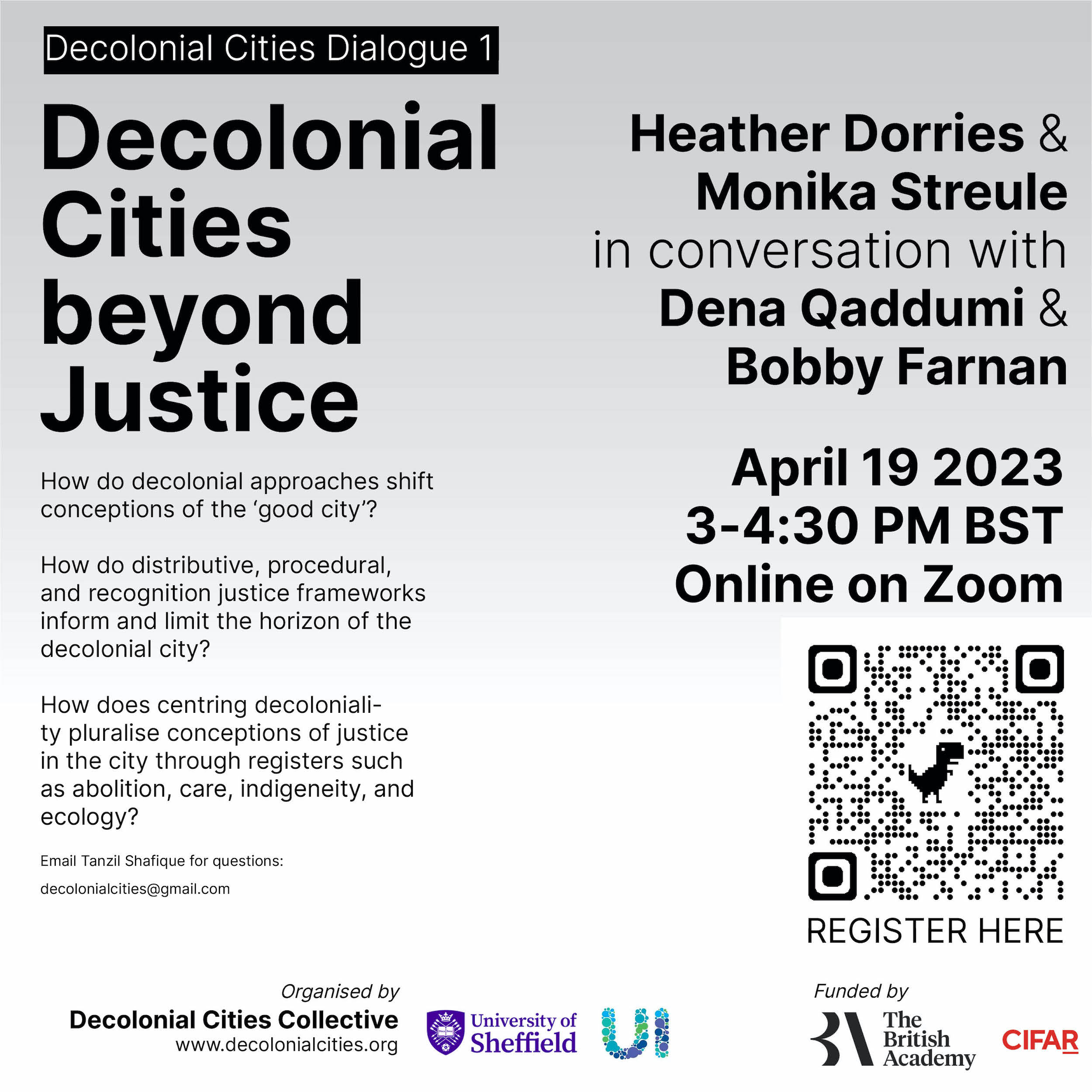 Aspirations to 'decolonise' have become prominent across disciplines and urban studies is no exception. While some manifestations of decoloniality in cities (such as the toppling of colonial statues and decolonising of university curriculum) have become popular, we are reminded by Tuck and Yang (2012) that decolonisation is a project that is not only distinct, but can contradict, social justice frameworks.
Please join the Decolonial Cities Collective's first Dialogue event, a virtual conversation between Heather Dorries (University of Toronto) and Monika Streule (LSE).
In this dialogue, we discuss how centring the 'decolonial city' can pluralise conceptions of justice and the 'good city'. In particular, we ask:
How do decolonial approaches shift conceptions of the 'good city'?
How do distributive, procedural, and recognition justice frameworks inform and limit the horizon of the decolonial city?

How does centring decoloniality pluralise conceptions of justice in the city through registers such as abolition, care, indigeneity, and ecology?
This event will open with position statements from each speaker followed by a discussion moderated by Bobby Farnan (University of York) and Dena Qaddumi (LSE) and Q and A with audience.
---
Email Tanzil Shafique for questions: decolonialcities@gmail.com
Sponsors
Decolonial Cities Collective, University of Sheffield, The British Academy, CIFAR
Categories