Current Bousfield Distinguished Visiting Scholar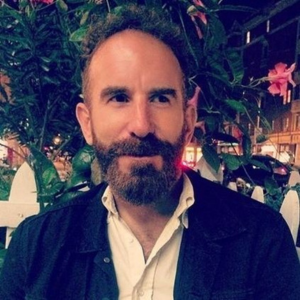 Ted Rutland
Ted Rutland is an Associate Professor in the Department of Geography, Planning, and Environment at Concordia University. An interdisciplinary urban scholar, his work focuses on the racial politics of urban policing, planning, and governance in Canadian cities. His first book, Displacing Blackness: Planning, Power, and Race in Twentieth-Century Halifax (University of Toronto Press, 2018), brought together ideas from Black studies and urban studies to explore how anti-Black conceptions of the human have been central to modern planning's efforts to protect and improve human life from the late nineteenth century to the present.
His current research focuses on how, beginning in the mid-1970s, processes of capitalist and state restructuring created the conditions for the rise of the "New Right" and the far right in Canadian cities and an eventual carceral turn in urban politics exemplified by a multi-faceted war on street gangs in Montreal and Toronto. Examining the war on gangs, this research suggests, provides an entry point to broader changes in urban policing, planning, and governance that he terms "counter-insurgency urbanism." Parts of this research have been published in Environment and Planning D, Geoforum, and the book (co-authored with former gang leader, Maxime Aurélien) Out to Defend Ourselves: A History of Montreal's First Haitian Street Gangs (Fernwood Press, 2023).

Kundan Kumar
Kundan Kumar has worked for two and a half decades as a scholar-practitioner, activist, and advocate for environmental justice, territorial and land rights of Indigenous Peoples and other marginalised communities, and community-led conservation. Working at local to global scales, his career includes work with grassroots initiatives, experience with development banking and planning, and regional and global level engagement with land tenure issues, conservation, and climate change with a focus on equity, justice and mobilisation of marginalised peoples. He currently advises the Indigenous Unit at FAO (UN's Food and Agricultural Organization) as a Climate and Conservation Expert, supporting the unit's research and advocacy efforts on the importance of Indigenous Peoples' mobilities, mobile livelihoods, and collective rights for biodiversity conservation. Prior to this, from 2014-2021 he worked with the Rights & Resources Initiative (RRI) as the Director of Asia Programs, leading RRI's policy and grassroots interventions relating to Indigenous Peoples' collective rights over land and forests in Asia. From 2009-2014, he worked the Department of Geography & Planning and the Faculty of Forestry at the University of Toronto as an Assistant Professor (CLTA). He completed his PhD in Resource Development from Michigan State University in 2010, after an extensive career in development banking and work with environmental justice movements in India.
Given the intertwined crisis of capitalism and planetary systems, Kundan's recent engagement with Indigenous Peoples and other marginalised communities focuses on climate and environmental justice. Kundan has worked on how the proposed "nature-based solutions (NBS)" such as 30X30 (setting aside 30% of geographical area for conservation by 2030), net zero and other initiatives for climate mitigation threaten to create new enclosures and intensify dispossession, and marginalisation of vulnerable communities. As climate crises intensify, the risk of harm to vulnerable peoples from justice-agnostic planning for climate mitigation and adaptation are likely to increase, as heightened sense of crisis is used to undermine democracy and justice. As a Bousfield Fellow, Kundan would continue to focus on justice implications of various climate mitigation and adaptation initiatives, especially Nature-Based solutions, seeking to improve connections between practice and theory of climate and environmental justice. In addition, Kundan will work on pathways for increased attention on Climate and Environmental Justice in Planning curricula.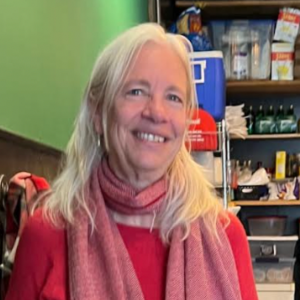 Dominique Russell
Dominique Russell is a community organizer, housing activist, teacher and writer.
She founded Friends of Kensington Market in 2013, mounting a successful city-wide campaign to stop a Walmart on the edge of the market. Under her leadership, FOKM intervened on development files, offered de-escalation and naloxone training, helped organize and support tenants facing displacement and campaigned against ghost hotels. In 2015, Dominique led a working group that set the parameters to establish a community land trust and was Kensington Market Community Land Trust's founding board chair. She is the KMCLT's current co-chair, along with Kevin Barrett. She also serves on the board of directors for the Canadian Network of Community Land Trusts.
She has given numerous talks, workshops and tours on the subjects of development, gentrification and activism in Kensington Market.
She holds a Ph.D. in Hispanic Studies from the University of Toronto and has taught at York, U of T, Western and more recently, Brock University. Her publications include Rape in Art Cinema (Bloomsbury, 2012, 2010), Instructions for Dreamers (Swimmers Group, 2018) and Kensington, I Remember (Russell Creek Press, 2023; 2017; 2013).
About the Visitorship
The John Bousfield Distinguished Visitor in Planning was established through a major donation and a matching grant by the University of Toronto. The Visitorship honours John Bousfield (1929-2016), a distinguished Canadian Urban Planner, with more than six decades of professional practice, and enables the Department of Geography & Planning to bring to the University accomplished individuals who can teach, give public lectures and participate in collaborative research projects on issues important to the field of planning.
The Bousfield Visitorship is intended to offer distinguished planning academics and practitioners the opportunity for research, writing and reflection, while also enhancing the learning experience of graduate students in the Program in Planning, providing diverse and innovative perspectives on contemporary planning issues and enhancing the relations between the Planning Program and the community at large.
Located in one of the most diverse cities in North America, the Planning Program offers its students a
dynamic, interdisciplinary blend of practical knowledge and critically engaged theory.
More information on the Program in Planning webpage.
Eligibility, Expectations and How to Apply
View Eligibility, Expectations and How to Apply.
Past Visitors
View past Bousfield Distinguished visitors.