When and Where
Thursday, March 16, 2023

6:00 pm

to

8:00 pm
100 St George St, Toronto, ON M5S 3G3
Description
Unsure of what to do with your geography degree? We can help! 
Join UTAGA, GGAPSS and TUGS for a collaborative event on Thursday, March 16 from 6:00 - 8:00 pm. Hosted by the Department of Geography and Planning. 
A 1-hour panel discussion featuring a moderator from TUGS and panelists from UTAGA and GGAPSS will help give insights on your post graduate options, followed by a 1-hour networking reception in the Geography Lounge — food and drinks provided. 
6:00 - 7:00pm → Panel Discussion: Sidney Smith Hall, Room 1069 
7:00 - 8:00pm → Reception: Sidney Smith Hall, Room 5026 (Geography Lounge)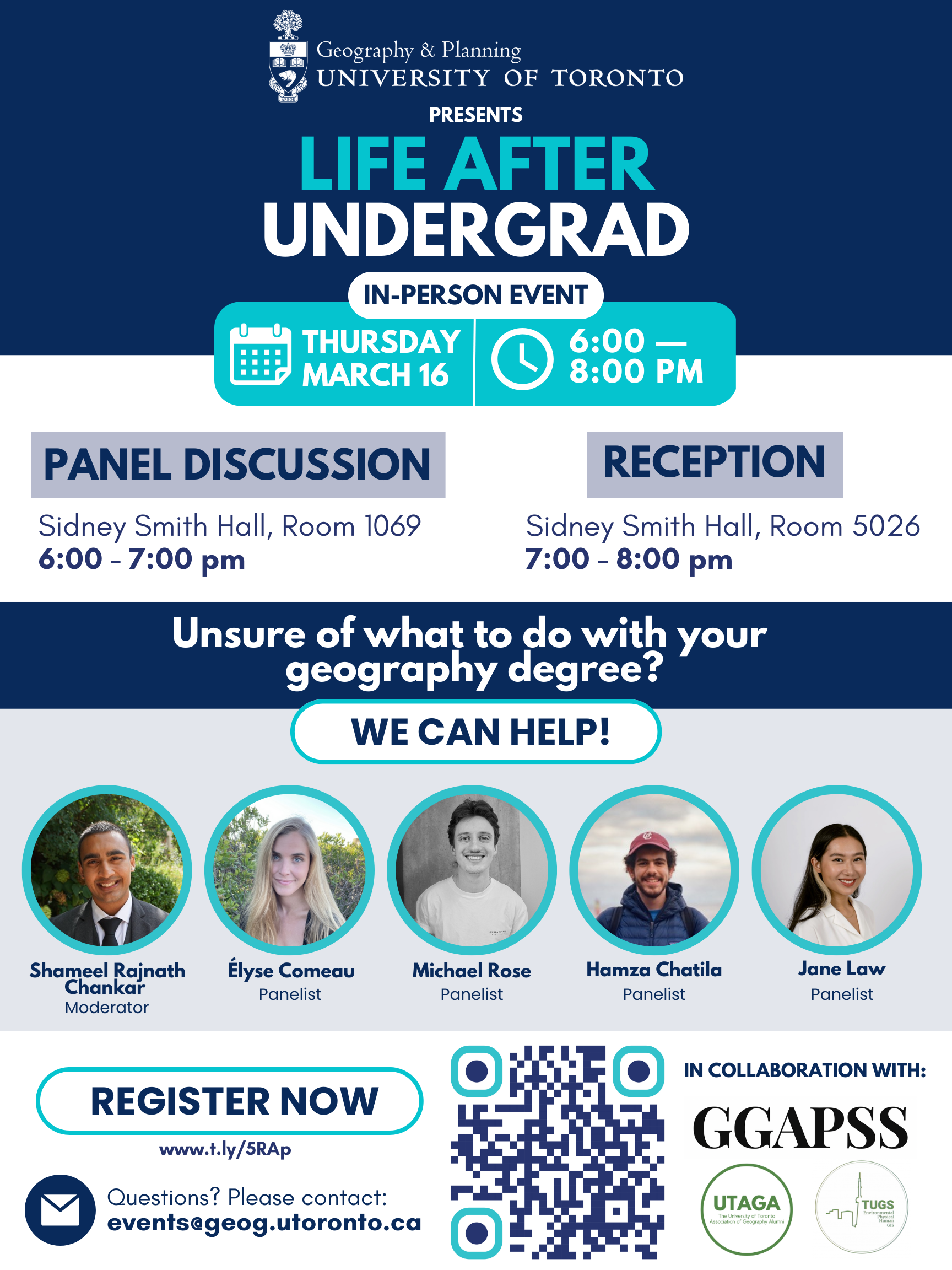 Moderator
Shameel Rajnath Chankar
Shameel is an aspiring Indo-Caribbean urban geographer from Trinidad and Tobago. He is a current undergraduate student double majoring in Human Geography and Urban Studies. His current research interests include gentrification trends of ethnic enclaves, research on the festival of Carnival within Caribbean cities, mixed-use planning strategies within cities and the revitalization of activity within urban areas that were affected by the pandemic. Shameel's future plans are to attend graduate school to complete a Masters in Geography and then a PhD to become a Professor at UofT.
Panelists 
Hamza Chatila 
Hamza is a student at the University of Toronto completing a Master of Science in Planning with a specialization in community economic development and housing. Hamza is committed to equitable city building and focuses his research on innovative solutions to Ontario's housing crisis. Prior to moving to Toronto in 2017, he lived between Dubai and Beirut, and completed his undergraduate degree in Geography at UofT. Outside of school Hamza has worked at the Region of Peel's Housing Development Team and currently works at Urban Strategies Inc.
Élyse Comeau
Élyse is a PhD Candidate in Planning. She holds a Bachelor's degree from U of T and a Master's in Planning from Toronto Metropolitan University. She works as a researcher in the Engagement and Planning for Inclusive Communities Lab at Holland Bloorview Kids Rehabilitation Hospital. Her research focuses on the intersection of transportation planning and disability. Élyse also has several years of private sector experience working as an urban planner for a Toronto-based land use planning consultancy.
Jane Law 
Jane Law is a member of the urban planning team at ERA Architects, a heritage-focused architecture firm, and contributes to projects in the development realm across the City of Toronto. She holds a Masters in Urban and Regional Planning from Toronto Metropolitan University, and a Bachelors in Geography and Urban Studies from the University of Toronto. 
Michael Rose 
Michael is a class of 2020 graduate in the Human Geography and Urban Studies program. After undergrad, Michael has been working in SaaS as a Sales Development Representative (SDR) and now manages his own SDR team. Throughout his career, Michael has helped place multiple job seekers into various roles within the Toronto tech space. 
Map
100 St George St, Toronto, ON M5S 3G3