The Department of Geography & Planning is deeply saddened to share the news that Barb Murck died peacefully Saturday morning. She retained her thoughtfulness and positivity throughout her brief battle with pancreatic cancer.  Her friends and colleagues will profoundly miss her enthusiasm, mentorship and ability to inspire.
We have created an online memorial board as a place to share memories and condolences.  In the coming weeks, we will share additional ways that we can collectively remember such an amazing colleague and friend.
Below is a bit more information about Barb's numerous accomplishments and contributions to the department and the University of Toronto.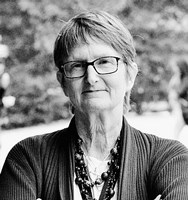 Barbara Murck received her AB Magna Cum Laude from Princeton University in 1976, and her PhD from the Department of Geology, University of Toronto in 1986. After more than a decade of teaching courses in the Department of Geology/Earth Sciences, she became the Director of UTM's Environment Programs in 1999.  In 2003, Barb was integral in ensuring the Environment Programs were located within the newly formed Department of Geography, now Geography, Geomatics and Environment. In the ensuing years, she was a major force behind their continued growth. She was also a beloved teaching faculty of the Master of Science in Sustainability Management in the Institute for Management & Innovation since the program's inception, where her love for teaching and the planet deeply touched all who knew her. In 2018, Barb was promoted to Full Professor, Teaching Stream, acknowledging her dedication to teaching and learning inside and outside the classroom.
Barb's impact on the UTM community cannot be overstated. In recent years she taught nearly 25% of all UTM students through one of her courses. Her dedication to teaching was recognized by students and colleagues. She received the University of Toronto President's Teaching Award in 2010 and was twice nominated for TVO Ontario's Best Lecturer Competition. She authored several textbooks and was a leader in online teaching, providing endless support to her colleagues during the rapid switch to online learning in 2020.  Over her career, she served on numerous committees at UTM and UofT, including the UTM Principal's Sustainability Advisory Committee, and helped craft the first Sustainability Strategic Plan for UTM.
Most of all, Barb will be remembered as always having time for students and colleagues: a compassionate listener who provided sound advice and steadfast support to anyone who needed it, inspired thousands of students to follow their love for the environment, and constantly identified new ways to improve her craft, her students' experience, the department and UTM as a whole. 
Categories
Tags